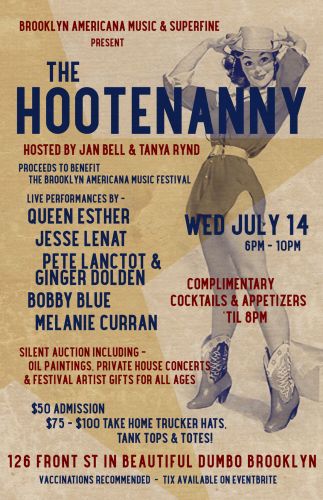 The Hootenanny at Superfine in DUMBO
To Benefit the 7th Annual Brooklyn Americana Music Festival
Hosted by Jan Bell and Tanya Rynd
July 14th

Complimentary cocktails and appetizers for the first 100 minutes of the event!
Doors open at 6pm. Our Hootenanny goal is to raise 10K in one night.
$50 admission guarantees you a great night of extraordinary music.
FIVE live sets by festival artists - Queen Esther, Jesse Lenat, Pete Lanctot and Ginger Dolden, Bobby Blue and Melanie Curran!
$75 All that music and a free trucker hat or tote bag! $100 gets you the trucker hat, tote bag and a festival tanktop or t-shirt!
The 7th Annual Festival is free of charge September 16 -19, 2021. BKAMF was featured in 'No Depression' The Americana Music Industry must read quarterly as the single roots music event with 60% women artists compared to national average of 18%.
This year our Women's Stage will be on Pier 6 Liberty View in Brooklyn Bridge Park, and the Dumbo Archway will host local and touring bands from Nashville TN, New Orleans, and Austin TX. Superfine, Sunnys Bar, Jalopy Theatre and 68 Jay will all host live music!
Until late Spring NYC gatherings were limited to 200 Now its full steam ahead to safely gather and share in the live music experience again, be sure to have your Excelsior Pass ready or wear a mask if you're not yet fully vaccinated.
Tax Deductible Donations most gratefully received via Brooklyn Arts Council
*The 7th Annual Brooklyn Americana Music Festival is made possible by public funds from the Greater New York Arts Development Fund of the New York City Department of Cultural Affairs, and with funds from the Statewide Community Regrants Program, a regrant program of the New York State Council on the Arts with the support of Governor Andrew M. Cuomo and the New York State Legislature and administered by Brooklyn Arts Council. The Festival is made possible in part by the office of Councilman Stephen Levin administered by Dumbo BID.