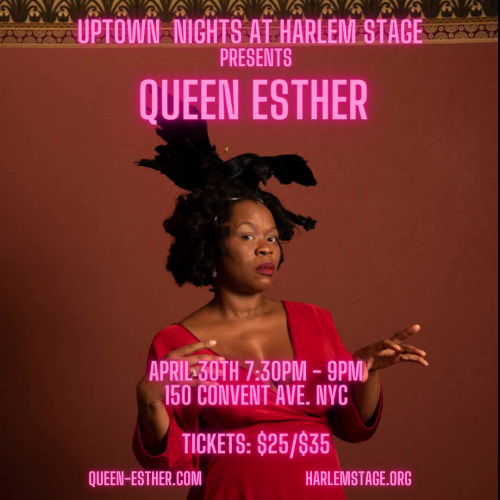 Harlem Stage presents
Queen Esther
150 Convent Ave.
Harlem, Baby!

April 30th one set! 7:30pm - 9pm
Click here for tickets: $25 / $35
Musicians:
J. Walter Hawkes, ukulele
Sharp Radway, piano
Jeremiah Landress, bass
Jeff McLaughlin, electric guitar
Steve Williams, drums
Please note: I'll be performing music from my entire body of work, including the soon to be released Rona and Things Are Looking Up!
From HarlemStage.org: Queen Esther's presence and performances exude the Blackness that raised her, moving steadily from The Old West and the foundations of the Black church to heartbreak, with soulful declarations and country-rock reworked into Black country soul and back again. Join us at Harlem Stage, where Queen Esther will reveal and illuminate the many facets of the Black sonic experience, presenting new music delving into Black Americana, original songs of protest cultivated through the pandemic, and Queen's Bohemian Rhapsody reimagined by way of the iconic vocal guitar duo, Ella Fitzgerald and Joe Pass.

BEFORE YOU PURCHASE YOUR TICKET, know that you must show proof of full Covid-19 vaccination (having completed the vaccination series at least 14 days prior to the performance date) AND a booster shot if you are eligible to receive one. If you are not yet eligible for a booster, you must show proof of a negative lab test (from a testing facility only) of a PCR test within 72 hours or a rapid test within 12 hours prior to being onsite. Masks are required.