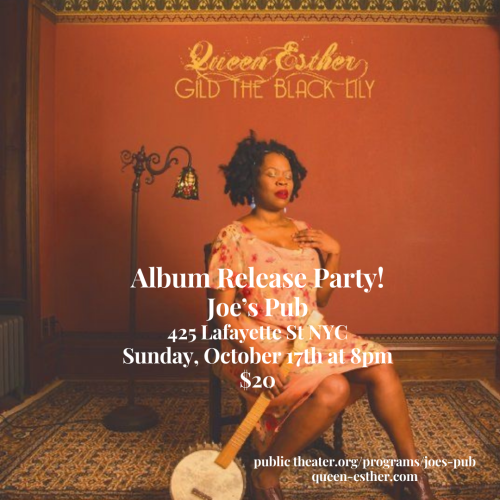 For tickets, click here!
There is a 2 drink or $12 food minimum, per person, during every show at Joe's Pub.
Doors open at 7pm. Show starts at 8pm.
From Joe's Pub: Raised in Atlanta, Georgia and embedded in Charleston, South Carolina's culturally rich and enigmatic Lowcountry – a region with African traditions and Black folkways that span centuries and continue to inform her work – Harlem-based vocalist, songwriter, musician and solo performer Queen Esther uses her Southern roots as a touchstone to sonically explore cultural mores in America, deconstructing well-worn historical narratives and creating a reclamation-driven soundscape. Although she is often described as "...a Black Lucinda Williams…" (Vanity Fair), vocal descriptives have included "...Aretha Franklinesque…" (Feedback) and have shifted easily from Billie Holiday and Sly Stone to Sarah Vaughn and Melissa Etheridge. Her self-released critically acclaimed Black Americana album Gild The Black Lily continues to make waves since its March 2021 release. Postponed repeatedly because of the pandemic, with this showcase her latest creative adventure will finally get the album release party it so thoroughly deserves.
PLEASE NOTE:
All ticket holders are required to show proof of a complete FDA or WHO authorized vaccination for access into the facility and theaters. Complete vaccination is also required for all theater staff and artists.
A complete vaccination means having received a final FDA or WHO vaccination dose at least 14 days before the performance date.
Proof along with a government issued photo I.D., such as a driver's license, passport or IDNYC is also required.
The access policy for those under 12 and those that require a reasonable accommodation due to a medical condition or religious belief, will be available by mid-September.
There will be no vaccination exemption for anyone attending a performance in Joe's Pub.
Approved face masks will be required for everyone at all times inside the facility and theaters, including while watching a performance, except while actively eating and drinking.
All policies are subject to change at The Public's sole discretion and without notice.
Those that do not abide by any health and safety protocols will be denied entry or removed from the facility.