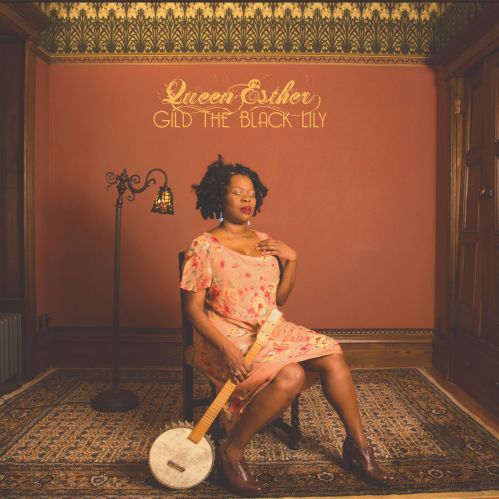 To read this review in Dutch, click here.



If we look back at the basics of everything we now experience as American, there is a good chance that the origin is different from what we had previously thought. Much of what belongs to the Americana can be traced in part to the culture of those who came to the United States as enslaved people and often it is a woman who set things in motion. Often these are women who have since disappeared under the blanket of history and whose customs, cultural expressions and customs have been incorporated into what we now experience as Americana. Queen Esther's fourth studio album "Gild The Black Lily" is often referred to as "Black-Americana" genre-wise. Actually, this is a kind of a step back to the original Americana and a tribute to those who formed the basis of a number of musical movements that we now capture under that umbrella concept, but actually roots music would be an even more accurate description. Her artist name Queen Esther is therefore a tribute to her great-grandmother after whom she is named. Her middle name is Lucille, but that was too sensitive because of BB King's guitar and she dropped her last name after being constantly compared in New York to her brother who is also a well-known musician. Queen Esther is broader than just a singer. Artist, writer, broadcaster, businesswoman, actress, a Lady Universalis. She came to fruition musically with James Blood Ulmer's Black Rock Experience and avant-blues duo Hoosegow with Elliott Sharp, but her first steps were singing gospels in the churches in Atlanta, Georgia and Charleston, South Carolina. She studied classical music, immersed herself in jazz and cabaret, but everything fell into place when she came into contact with old blues and local interpreters of country and blues of her time in Austin, Texas and she found similarities with the gospels from her childhood. This resulted in now her fourth solo album.



Queen Esther takes her time for this, as "Talkin 'Fishbowl Blues" was released in 2004 and followed by "What is Love?" In 2010 and "The Other Side" in 2014, all on her own record label EL. On her fourth album "Gild The Black Lily" you can also hear that she goes back to the music of her youth and shows the development through a number of her own songs and interpretations of other people's songs. The first thing that stands out is the raw sincerity and the ability to carry that emotion across different genres. The album kicks off with the country song "The Black Cow Girl Song" and then Blind Willie Johnson's a cappella classic "John The Revelator". A nice opening, but the great "The Whiskey Wouldn't Let Me Pray" is a fantastic song with gospel influences and a great song. The sensitive, intense sung "Oleander" is a strong sequel and that description effortlessly counts for the soulful "Take It To The Limit" that reaches ever greater heights with beautiful organ playing in this Eagles cover. It continues smoothly into a tribute to Sister Rosetta Tharpe with "Lonesome Road and the beautiful" This Yearning Thing ". Queen Esther is assisted on the album by classy musicians such as Hilliard Green on bass, Boo Reiners on guitar, mandolin and steel guitar among others, Ben Rubin plays bass and Wurlitzer electric piano, organ and synthesizer, Jeff McLaughlin is the guitar, Greg Lewis is can be heard on organ and Shirazette Tinnin hits the drums. It is always the combination of subtlety and the uncompromising that puts the emotion in the foreground. The result is a fantastic varied album with the beautiful interpretation of the often covered country song 'He Thinks I Still Care' and two beautiful acoustic songs with Boo Reinders as accompanist, the album ends fantastic with 'I Love Him' and an alternative version of ' The Whiskey Wouldn't Let Me Pray '. A varied, but very beautiful sincere album, in which her own songs like "The Whiskey ..." and "Oleander" steal the show a bit more than the excellent covers. The album is a tribute to all those women and artists to whom we owe so much musically.