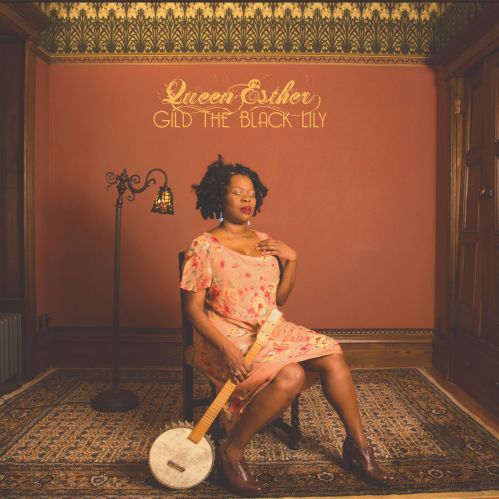 Gild The Black Lily Album Review
PartonandPearl.com by Marcus K. Dowling
Queen Esther's fourth studio album Gild The Black Lily, highlights the gift of being an African-American woman willing to make daring, reclamation-driven musical navigations into unexpected sonic spaces. It audaciously succeeds at crafting a narrative thread from gospel blues vocalist Blind Willie Johnson to The Eagles' soft rock to her own heartwarming Black Americana. Notably, the album grows in distinction when Esther's artistry expands beyond her prodigious roots and profoundly connects with the listener's emotional core.
Before 2021, defining who Queen Esther musically was and why she was great proved difficult for critics. The reason? For generations, the gift that is Black women performing America's foundational music was cursed by white men having significant levels of pop-aimed mainstream dominance in the space. Thus, sounds that originated in the spirit of Black American femininity in the Antebellum era grew in renown as the timeless white American experience's embodiment. As a result, reviews of the Harlem-based Esther's melodic yet slyly robust vocal instrument are compared to everyone from Lucinda Williams and Melissa Etheridge to Sly Stone and Sheryl Crow, or Sarah Vaughn and Nina Simone.
Thus, Queen Esther's work would receive polite, critical acclaim in a previous environment in the not-so-distant past. However, in the present musical and socio-cultural climate, a "Black Americana" roots-rock release does as much to celebrate history as it does to provoke a nuanced cultural conversation.
The past three years have seen the United States' latest social referendum on race and racism profoundly impacted Americana and country music spaces. Rhiannon Giddens and a talented quartet of artists successfully reclaimed the banjo's ancestral Black history via their Our Native Daughters project. As well, Mickey Guyton has reasserted an award-nominated claim on Black excellence in country music. Plus, more artists of color are visibly super-represented and sustainably thriving in roots, country, folk, and Americana than ever before.
Under this metaphorical microscope, this recording becomes an important creation occupying unprecedented space.
To read the entire review, click here.