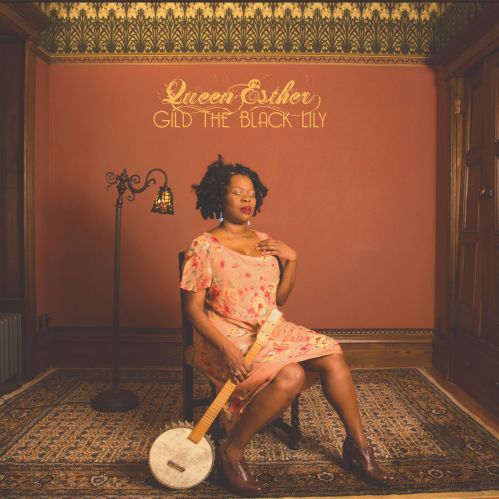 (To read this review in Dutch, click here.)
Queen Esther rules New York City somewhere. She roams through a castle of different genres. On "Gild The Black Lily", her fourth studio album meanwhile, the former member of James Blood Ulmer's Oddysey band moves willfully, gracefully, from gospel to blues and from western to country rock.
"Gild The Black Lily" emphasizes the gift of an African American woman willing to make daring, musical leaps. She succeeds wonderfully, going from Blind Willie Johnson to the soft rock of The Eagles to her own heartwarming Black Americana.
13 songs on this disc, ranging from Queen Esther's own originals and covers of Son House, Chip Robinson from The Backsliders, Sister Rosetta Tharpe, The Eagles and George Jones, not to mention Blind Willie Johnson. Namely a beautiful version of "John the Revelator". The addition of an original song that brings together a century of pleasant folkloric pop trends, such as 'The Whiskey Wouldn't Let Me Pray' give the record a great cachet.
With such songs, however, the album is a wonderful musical journey. The most dramatic work on the record is "Oleander", a melancholic country ballad she wrote herself. Her voice comes into its own as an instrument that meanders through and around rhythms and measures. A song like 'This Yearning Thing' goes even deeper. This song emphasizes the Queen's musical singing qualities.
As for The Eagles' cover song "Take It To The Limit" - it really sounds wow. Not a copy but a cover with its own soul. Albums like Queen Esther's "Gild The Black Lily" are the best accolades to African American music. What Queen Esther comes to serve here is of a high level. I would say see for yourself!