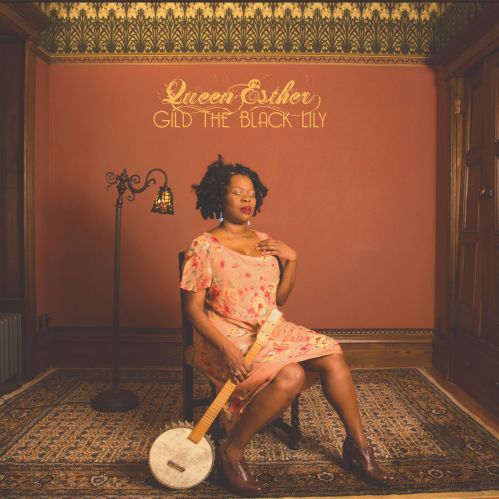 "The unknown Queen of Americana"

Eminent disc from an artist several more ought to check out.
She calls her music "Black Americana", but here genre concepts are superfluous. She has put together an absolutely insanely strong album that everyone with good taste should check out.
(Translated from Norweigan. For the original review, click here.) This album was a suggestion from a streaming service that asked me to listen, right after plowing me through the latest album of the venerable country artist Jason Ringenberg's latest (and excellent) solo album. An algorithm tip, in other words, where some computer program guessed that if you like Jason then yes, you also like Esther.

That's how it has been, you could say. And such as this rarely occurs as exceptionally accurate tips, but often not at all. For example, the same streaming service asked me to check out ten different songs by Phil Collins, after I had made a playlist with the front-runner artist Phil Shöenfelt, where the only common denominator, the absolute only one, was the first name.

But sometimes it hits, that is. And that just proves how unwise it is to lend your user in a streaming service to someone with a different taste than yourself (ie no one). As I saw someone wrote on Twitter recently (unfortunately I do not remember who): "A divorce can be hard to get through, but it's much harder to learn the algorithms in Spotify to forget her taste and tell me about music I (and not she) actually likes ».

Queen Esther was thus recently a completely undescribed magazine for the undersigned. The last week has therefore been an ever so small intelligence work, with a miserable influx of sources, because it is not a troublesome, commercially large artist we are talking about here. She has few monthly listeners, is relatively little written about and her records are only released on CD.

But she should have been great. At least from now on and onwards. She sings absolutely fantastic, she interprets other people's songs in an eminent way (The Eagles, George Jones, Chip Robinson, Lucinda Williams and others) and she even writes her own songs of the shockingly good kind.

Queen Esther has released three records before, as well as played in various bands, where it ranges from jazz and blues to what we have gradually begun to call americana. Let's rather call it superb folk / country with a touch of gospel.

Her previous releases are very uneven. The solo debut, or, what I think is the solo debut, "Talkin 'Fishbowl Blues" (2004) is a slightly overproduced and ordinary blues rock album, the sequel (if it is) "What Is Love" (2010) is a pure jazz album I started pretty quickly to skip (have to think about these algorithms, vettu), "The Other Side" (2014) an uneven album in the blues / country street, but where two, three of the best songs are really good.

Then comes "Gild the Black Lily" and just mows down everything she has done before, with the banjo as a weapon, like a tennis racket with steel nails. What I think is her fourth album under her own name is a feast for the ears, both in terms of making music, production and song selection / songwriting. Esther has previously called her music "black americana", as a deliberate statement, and it makes sense, but this is first and foremost deadly good American music heavily rooted in the rich heritage of the southern part of the United States, where gospel and country merge into one unit greater than the sum of the individual components.

She sings ridiculously well; holds back where the music needs air and subdued arrangements, then squeezes in with Aretha Franklinic force when needed. Besides, she's got a fucking twist on songwriting. The opening track "The Black Cowgirl Song" is raw and would be a highlight on a record by Gillian Welch. Absolutely, absolutely amazing.

It is followed by the a-cappella song "John the Revelator" (only accompanied by handclaps and a bass drum, or whatever it is that strikes repeatedly), a Blind Willie classic that has previously been interpreted by everything from Nick Cave, REM, Mellencamp , Beck, Frank Black and a bunch of others. Her version is not behind any of these. Exquisite.

The album's highlight comes next, the country interior "The Whiskey Wouldn't Let Me Pray", a song I think is her own, and which also comes in an acoustic version at the end of the album, also the absolutely fabulous one.

She is depicted with a banjo on the cover, but it is the mandolin that is the dominant string instrument here, as well as what sounds like standing bass. In some songs it is laid on a light organ, elsewhere a little guitars, a steel guitar here and there, it is super nice screwed together, but it is always her voice, her crazy voice, that gets to shine and give the songs, both her own and the cover songs, wings. Not a single track is weak. No dead center.

It's so damn cool to stumble across something like this. Streaming is some shit for the artists, at least measured in revenues from physical product, but for us consumers it is a lot of positive with it, not least that you can make discoveries like this. Or maybe it's all just a joke, that everyone but me knew about this, and that it's an unreleased Aretha goes country album everyone else has heard before?

Okay enough for me. I like to be surprised and fooled by more like that. And if you have not heard of her: Check out the album, guys! And maybe you'll be told afterwards that you should check out the latest Jason Ringenberg? See that had been something!